This week I'm linking up for the first time with
Ashley
and
Neely
for Sunday Social. :)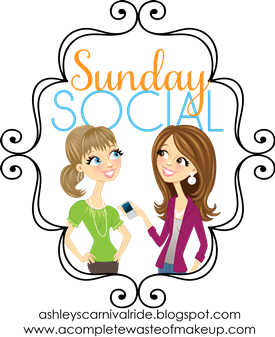 1. Five items you can't live without on a daily basis? (water, food, shelter and clothes don't count)
- My phone
- My eftpos card (for those hunger attacks while at uni)
- My laptop (got to keep up to date with my overseas shows)
- Peanut Butter (PB on toast is the best snack at the end of a long day)
- Deodorant. Can't be smelling nasty.
2. Your all-time favourite book?
Oooh this is a hard one! I would probably say 'Losing Gemma' by Katy Gardner. Its got a really interesting plot, with really good characters. It also has one of the best twisty endings I've ever come across.
3. Something you'd like to accomplish by the end of 2012?
Get a job. Uni is ending and I need to live.
4. If you could go back and re-live any year of your life, which year would it be?
Probably my first year of Uni, which would be 2010. I don't feel like I had that complete Uni experience.
5. What do you wish people knew about you without you having to tell them?
Spelling my name r-a-c-h-e-l! People always write it r-a-c-h-
a
-e-l, and it peeves me off.
This was fun! I'll for sure try to link up each week :)
xoxo Rach