Hey Everyone!
Once again, I'm linking up for Sunday Social! This weeks questions are all about books!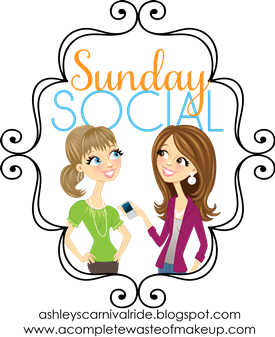 What is your favourite childhood book?
I read a lot of books when I was little, but I would definitely have to say 'Where the Wild Things Are' by Maurice Sendak. I loved it, and still do now! A little disappointed with the movie version though. :(
2. What is your favourite book lately
?
I just read 'The Perks of Being a Wallflower' by Stephen Chbosky. Loved It! Super excited to watch the movie!
3. What is the book you wish you could live in?
Harry Potter. Without a doubt.
4. If you could be any character from a book, who would it be and why?
Hmmm, this one is tough. Maybe Katniss from the Hunger Games. I wouldn't really enjoy the whole fight to the death bit, but she's pretty badass and survives all 3 books, so that's a bonus
5. What is your favourite book turned movie?
I'm a pretty firm believer of books are always better, BUT, Harry Potter is the ultimate. They owned those movies. Also, I was very impressed with The Hunger Games, hopefully they can keep it up with the next ones.